Wendy Nungarrayi Brown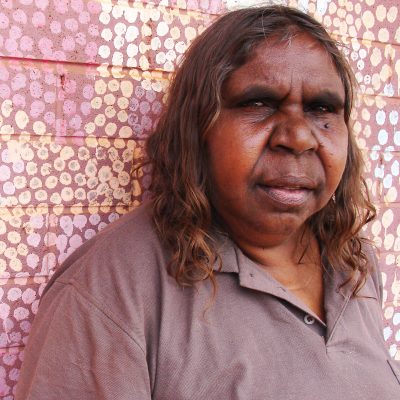 Wendy Nungarrayi Brown is the daughter of two of Warlukurlangu Artists founding artists: The late Bessie Nakamarra Sims (1932- 2012) and the late Paddy Japaljarri Sims (1916 – 2010). She has two sisters and one brother and they all paint through the art centre. Wendy has four children and many grandchildren that she helps to take care of when she's not painting. Wendy has lived her whole life in Yuendumu; a remote Aboriginal community located 290 kms north-west of Alice Springs in the NT of Australia. She attended the local school followed by further studies at Bachelor College where she completed a pre-tertiary course before studying Early Childhood Education. Besides helping out with Meals on Wheels for the old people, Wendy worked for many years at the local Child Care Centre but had to stop working in 2004 as she suffers from chronic arthritis. Wendy has been painting with the Warlukurlangu Artists Aboriginal Corporation, an Aboriginal owned and governed art centre located in Yuendumu, since 1987 and has been exhibiting her work in Group Exhibitions since 1988. Because of her busy lifestyle her production of art work was initially sporadic – it wasn't until 2004 when she retired that she was able to commit herself to full time painting. Wendy paints her Dreaming stories, dreaming stories which relate directly to ceremony, land, and bush tucker. These Dreaming stories were passed down to her by her father and his father before him.
"Yuparli Jukurrpa – Bush Banana Dreaming" has been added to your cart.
View cart
Showing the single result