Nancy Cowan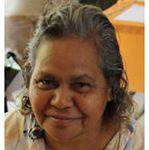 Nancy first showed her work in the Murray Upper and Beyond exhibition at the Girringun Aboriginal Art Centre in 2009. Since then her work has been included in various exhibitions nationally. Nancy's ceramic work was also part of the artwork installation Bagu with Jiman, selected as a finalist in the 27th Telstra National Aboriginal and Torres Strait Islander Art Awards.
The Girringun Aboriginal Art Centre, based in Cardwell, represents artists from nine Traditional Owner Groups, the Nywaigi, Gugu Badhun, Warrgamay, Warungnu, Bandjin, Girramay, Gulgnay, Jirrbal and Djiru people.
The traditional country of these groups covers some 25,000 square kilometres, from north of Townsville, south-west to Clarke River, north to the Mission Beach area, west to Ravenshoe and east to include Hinchinbrook and the Family Group Islands.
Djumbunji Press, through collaborative printer Bobbie Ruben, delivered workshops in screen printing at the Girringun Art Centre as a means of providing practical support to the artists after many suffered devastating losses as a result of Severe Tropical Cyclone Yasi. The resultant exhibition, Gijalordi, explores the local Kingfisher story.
Group Exhibitions
2009 Cairns Indigenous Art Fair, Cairns Qld.
2009 Mundi – Big Mob, Girringun Aboriginal Art Centre, Cardwell Qld.
2010 Gamarada Ngiyani Yana, Shalom College, Sydney NSW
2010 Girringun at Canopy, Australian Art Network Galleries Canopy Artspace, Cairns Qld
2010 Girringun at Hinchinbrook, Hinchinbrook Art Gallery, Ingham Qld.
2011 Bunyaydinyu Bagu, Suzanne O'Connell Gallery, Brisbane Qld.
2011 Spinifex Country and Beyond, Gatakers Artspace, Maryborough Qld.
2011 Dulgu-Barra Bagu, Umbrella Studios, Townsville Qld.
2011 Gijalordi, KickArts Contemporary Arts, Cairns Qld.
2011 Girringun Guni Mara, Merenda Gallery, Fremantle WA
2011 Across Country Five Years Of Indigenous Australian Art, Gallery of Modern Art, Brisbane Qld.
2012 Bagu Visits Mission, Unique Frames, Mission Beach Qld.
Commissions
2011 Queensland Rail Brisbane to Cairns Tilt Train, Qld
"Kingfishers singing out to each other across the river" has been added to your cart.
View cart
Showing the single result