Alfreda Nungarrayi Martin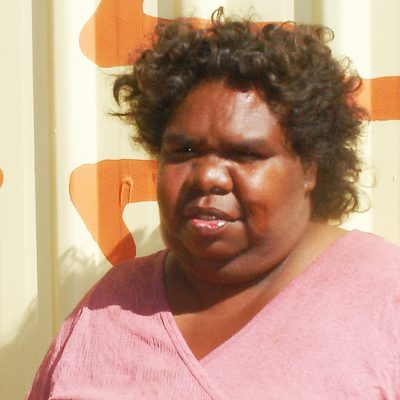 Alfreda Nungarrayi Martin was born in 1978 in Alice Springs Hospital, the closest hospital to Yuendumu, a remote Aboriginal community 290 km north-west of Alice Springs in NT of Australia. Alfreda comes from a well-established family of artists—her mother is Helen Nampijinpa Robertson, her grandfather is Shorty Jangala Robertson, and Alfreda's step-father is Paddy Japaljarri Stewart—all well-known artists both in Australia and overseas. Alfreda attended the local school in Yuendumu and completed her studies (Year 12) through the Northern Territory Secondary Correspondence School (now the NT Open Education Centre). As part of her studies she attended Residential School in Darwin where students attended a week of timetabled lessons with teachers for all their subjects. When she completed her studies she looked for work. One of her jobs was preparing lunch for pupils at the local school in Yuendumu. Although Alfreda first began painting for Warlukurlangu in 2008, shortly after she began painting for herself, displaying her works in Alice Spring to sell. She has recently come back to Warlukurlangu Artists Aboriginal Corporation, an Aboriginal owned and governed art centre in Yuendumu, where her grandfather, Shorty Jangala and her step-father, Paddy Japaljarri regularly paint. Alfreda likes to paint, especially her father's dreaming, Yurrampi Jukurrpa (Honey Ant Dreaming), dreamings which have been passed down to her from her father's side and from his father's side before him for millennia. She also likes to paint her grandfather's dreaming¬¬Ngapa Jukurrpa (Water Dreaming). These dreamings relate directly to the land and its features, and the plants and animals that live on it. Alfreda never married, nor has she had children of her own, however she has many nieces and nephews to play with. In 2015 moved to Nyirripi where she now lives.
"Yurrampi Jukurrpa (Honey Ant Dreaming)" has been added to your cart.
View cart
Showing the single result