Tommy May Ngarralja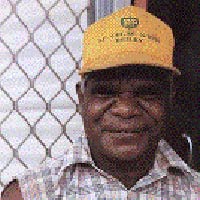 Ngarralja is a Wangkajunga and Walmajarri man. He was born at Yarrnkurnja in the Great Sandy Desert. He dances and sings Kurtal, a ceremony relating to the main jila [living waterhole] in his country. He is also a painter and printmaker. Ngarralja tells this story:
I was big when I left my country. I was already hunting by myself. I was with my young brother and my mother. My father had passed away by this time. I know these stories and these places in my country. I paint these now.
We are not allowed to paint that story for other people's country. We will get killed or into trouble if we do this. We put that easy story, not a really hard story like law business. We can't paint that either.
I first saw paintings in caves. I learned a lot from people, mostly my father and grandfather. I was living all around in my country, camping all around. When I paint I think about this.
Ngarralja is fluent in Wangkajunga, Walmajarri and English and writes Walmajarri. He is a founding member of the Karrayili Adult Education Centre where he learnt to read and write his own language and English.
Ngarralja is an important person for art and culture in Fitzroy Crossing. He is a former Deputy Chairman of Mangkaja Arts and former Chairman of Kimberley Aboriginal Law and Cultural Centre (KALACC). Ngarralja was also an executive for twenty one years on the Association of Northern Kimberley and Arnhem Aboriginal Artists (ANKAAA) Board of Directors.
Ngarralja lives with his children at Mindi Rardi Community in Fitzroy Crossing.
The artist was the overall winner of the prestigious 2020 Telstra National Aboriginal and Torres Strait Islander Art Award.
Subject & Themes
Pulany Jirtirl ngapa jila (living waterhole), Louisa Downs country, Yarrngkurrnja hill
Ngarrangkarni (Dreamtime) stories, Country from east of the Canning Stock Route,
Karntawarra in the Great Sandy Desert,Mukurrutu waterhole in the Great Sandy Desert,
Purrkarra rockhole in the Great Sandy Desert, Tali (sandhill), jumu (soakwater) and bush foods from the Great Sandy Desert
Collections
National Gallery of Australia
Little Creatures Collection, Perth
National Gallery of Victoria, Melbourne
Curtin University Collection, Perth
Queensland State Gallery, Brisbane
Berndt Museum of Anthropolgy, Crawley WA
Australian Print Workshop, Melbourne
Flinders Art Museum, Flinders University, Adelaide
Carketon College Art Collection, Northfield Minnesota USA
Kennesaw State University, Georgia USA
Individual Exhibitions
2007 Lau Lau, Australian Print Workshop, Melbourne
Group Exhibitions
2008 More Than a Few Good Men, Woolloongabba Art Gallery, Brisbane
2007 Jilji Jaa Martuwarra, Bridgette Braun Gallery, Melbourne
2007 Fremantle Print Award, Fremantle Arts Centre, WA
2006 Impressions 2006. limited Edition prints by leading contemporary artists, Australian Print Workshop, Melbourne
2005 This is Still My Country: Ngurrara Canvas, Artplace, Perth Perth Concert Hall, Perth International Arts Festival
2003 Jila, Juma, Jiwari & Wirrkuja, University of Western Australia
Murrkunkura Ngarrangkarnijangka Ngurrara: Three men's countries from the Dreamtime, Raft Artspace, Darwin
2002 Native Title Business – Contemporary Indigenous Art, national Traveling Exhibition
2002 The 16th Asian International Art Exhibition, Guangdond Museaum of Art, Guangzhou, China
2002 Group Show, Flinders lane Gallery, Melbourne
2001 Ngurrara Canvas, National Gallery of Australia
2002 Mangkaja Arts Ten Years On, Tandanya, Adelaide
2002 18th National Aboriginal and Torres Strait Islander Art Award, Museaum and Art Gallery of the Northern Territory
2002 Impressions! An exhibition of prints, Coomalie Centre, Batchelor, NT
2002 Group Show, Australian Print Workshop Gallery, Melbourne
2000 Fremantle Print Awards, Fremantle Art Centre, Perth
2002 People in Landscape:Contemporary Australian Prints, Cultural Centre of the Philippines, Manila
2002 Proof Positive, Gold Treasury Museaum, Melbourne
2002 Cutting Comments: Contemporary Lino cut Prints 1995-98, Silk Cut Award Traveling Exhibition
1999 Story Boards: ceramic Tiles form the Kimberley, Fremantle Arts Centre, Perth
1998 Group Show, Rebecca Hossack Gallery, London
1997 Heritage Commission Art Award, Old Parliament House, Canberra
1996 Fremantle Print Award, Fremantle Art Centre, Perth
1996 National Aboriginal and Torres Strait Islander Art Award, Museaum and Art Gallery of the Northern Territory
1996 Heritage Commission Art Award, Old Parliament House, Canberra
1996 Mangkaja Paper Works, Tandanya Aboriginal Cultural Institute, Adelaide
1995 National Aboriginal and Torres Strait Islander Art Award, Museum and Gallery of Northern Territory, Darwin. Selected to tour nationally with the first NATSIAA travelling exhibition
1995 Fremantle Print Award, Fremantle Art Centre
1995 Prints from the APW Collection, Survey show of recent works from the APW archive, Australian Print Workshop, Melbourne
1994 Ngarakura Ngurrara Minyarti, This is my Country, Festival of Perth Exhibition, Artplace Gallery, Perth
1993 Images of Power, Aboriginal Art from the Kimberley, National Gallery of Victoria
Bibliography
2003 Martuwarra and Jila, Jumu, Jiwari and Wirrkuja, Exhibition Catalogue ,Cullity Gallery, UWA Perth/Mangkaja Arts Resource Agency
Australian Art Collector. Review/Maurice O'Riordan
The Painted Desert: The fate of an Aboriginal Masterpiece, New Yorker Magazine July 28, 2003
Native Title Business Contemporary indigenous Art. Joan Winter. Gurang Land Council. Regional Galleries Assn QLD
Kurtal; Snake Spirit.Video Documentary/ABC TelevisionOxford Companion to Aboriginal Art,Oxford University Press & ANU
Karrayili The history of Karrayili Adult Education Centre, IATSIS Canberra
2001 Painting Up Big, The Ngurrara Canvas, Kaltja Now National Aboriginal Culltural Institiute – Tandanya
18th National Aboriginal and Torres Strait Islander Art Award. Museum and Art Gallery of the Northern Territory
People in Landscape. Contemporary Australian Prints. Exhibition Catalogue. University of Melbourne
16th Asian International Art Exhibition. Exhibition Catalogue. Australian Print Workshop Inc.
1998 Jila Painted Waters of the Great Sandy Desert, Video Documentary/SBS Television
1994 Ngajakura Ngurrara Minyarti, This is My Country, Exhibition Catalogue
Showing all 4 results