Tom Djumpurrpurr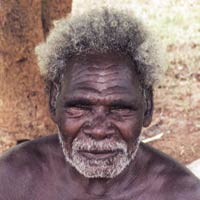 Tom Djumburpur was born in the bush in his own country, Djilpin, south-west of Ramingining at the top of Goyder River. After the death of his parents in the early 1930's Tom went to live with an uncle who lived nearby, and continued living a traditional lifestyle away from the local mission. He was initiated at Murrwangi.
He was taught to paint by his second father, Charlie Wagirr. His first exhibition was in Melbourne in 1983, which he visited for the first time during this show. The then Minister for Aboriginal Affairs, Clyde Holding, bought several of his pieces for his private collection. In 1987 his work was shown in exhibitions in Brisbane and Adelaide.
Tom was also one of the artists to contribute several bone coffins to the 'Aboriginal Memorial' installation, made up of 200 burial poles symbolising 200 years of white occupation, which was part of the 1988 Biennale of Sydney. This installation is now on permanent display in the National Gallery of Australia, Canberra.
Djumburpur paints in two distinct styles: one tends towards abstract or minimalist renderings on bark, using traditional body designs to depict the Wagilag Sisters Story, an important Aboriginal creation myth. The other style is of monumental creatures enforcing their power and importance through their size and movement in the works. His trade mark is his use of a silver white clay and strong graceful strokes. His work is often set against fields of rarrk (crosshatching) and geometric shapes, sacred rocks or circular motifs representing waterholes. His barks are often shaped like a shield.
In 1997 Tom was one of the artists who participated in a series of workshops in Ramingining, held by printmaker Theo Tremblay, during which they produced an important series of prints, the Raminging Print Suite, based on the Wagilag Sisters creation story, one of the major cration myths of this region. This workshop represents a unique collaboration by a group of celebrated Aboriginal artists.
Subject & Themes
Wagilag Sisters Creation Story,Wititj- Pythons, Goannas and Bats manifested as Sacred Rocks (triangular motifs), Goyder River rocks, Gulwiri palm, freshwater design
Collections
Artbank, Sydney.
Flinders University Art Museum, Adelaide.
Milingimbi Collection, MECA, Milingimbi Educational and Cultural Association.
Kluge Ruhe Collection USA.
Museum and Art Gallery of the Northern Territory, Darwin.
Museum of Contemporary Art, Ramingining Collection, Sydney.
National Gallery of Australia, Canberra.
National Gallery of Victoria, Melbourne.
The Holmes a Court Collection, Perth.
Group Exhibitions
1983 George Paton Gallery, Melbourne.
1984 Objects & Representations from Ramingining, Power Institute [now MCA], Sydney.
1987 Community Arts Centre, Brisbane.
1988 Sydney Biennale, Art Gallery of New South Wales.
1990 The Seventh National Aboriginal Art Award Exhibition, Museum and Art Gallery of the Northern Territory, Darwin.
1996 Bula'Bula Arts, Ramingining, Anima Gallery, Adelaide.
2000 Yolngu Science MCA, Sydney.
Bibliography
Caruana W & Lendon N. The Painters of the Wagilag Sisters Story 1937-97 National Gallery of Australia 1997.
Hill, M., and McLeod, N., 1984, From the Ochres of Mungo, Aboriginal Art Today, Dorr McLeod Publishing, West Heidleberg, Victoria. (C)
Isaacs J. Spirit Country: Contemporary Australian Aboriginal Art Hardie Grant Books. Fine Arts Museum of San Francisco 1999.
1991, The Adelaide Advertiser, Bark paintings much more than design, exhibition review of Arnhem Land Aboriginal Art, 27.03.1991.
Hardie Grant Books. Fine Arts Museum of San Francisco 1999.
Showing all 2 results