Rover Thomas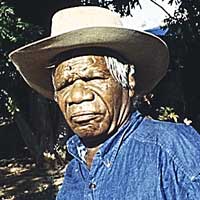 One of Australia's most distinguished and influential Aboriginal artists, Rover Thomas began painting in the mid 1970's after a thirty year career as a stockman and labourer.
He was born near Gunawaggi in the Great Sandy Desert; his mother was a Kukatja woman and his father Wankajunga; he was 'grown up', in the Aboriginal way, by two fathers, Lanikan Thomas and Sundown. When he was ten his family walked 500 kilometres north to Billiluna Station, where several years later he underwent his traditional initiation.
As a consequence of the unemployment and migration caused by the equal pay ruling of the late 1960's, Thomas settled in Warmun (Turkey Creek), an Aboriginal community in the Kimberley, Western Australia. An auspicious chain of events included a revelation which came to Thomas in a dream, of the Krill Krill ceremony; a ceremony which has become synonymous with Aboriginal people of the East Kimberley. Its associated songs and pictorial imagery have been described as a cultural reaffirmation, through interpretation, of contemporary events that shroud an ancient landscape; it also led to the formation of a school of painting now recognised as distinctly that of the East Kimberley.
Mary Macha, a Perth-based art consultant was instrumental in nurturing the fledgling art movement at Turkey Creek and getting Rover Thomas' works into important collections.
The Gija style of Rover's adopted country has a figurative orientation influenced by regional rock art and ceremonial body paint designs. Rover Thomas draws on both Western Desert and East Kimberley styles, creating a highly individual synthesis that is rare in the work of bush artists. Author Judith Ryan said of Rover: "Thomas is not locked inside language patterns or ritual structures of the Western desert, he looks beyond them to another world or reality and enjoys the freedom to depict this expansively."
Rover Thomas came to public prominence in the late 1980's when his reputation grew as his work gained wider commercial exposure. In 1989 he was included in the Art Gallery of Western Australia's exhibition 'On the Edge: Five Contemporary Aboriginal Artists'. In 1990 he represented Australia at the Venice Biennale, and was also awarded the John McCaughey Prize for the best painting hung that year in the Art Gallery of NSW. In 1994 he was involved in his landmark retrospective 'Roads Cross: The Paintings of Rover Thomas', mounted by the National Gallery of Australia.
In 1995 Rover Thomas travelled back to his birthplace. On his return to Kununurra, he painted an impressive body of work inspired by this sojourn in Kukatja country.
His work is held in collections all over Australia as well as in the USA, Scotland and Germany.
Subject & Themes
Rounded blocs of colour, 'minimalist' style Dreamings from Turkey creek to the desert, Krill Krill, Cyclone Tracy, Railway bridge Katherine, Yari Country.
Collections
Artbank, Sydney.
Art Gallery of New South Wales, Sydney.
Art Gallery of South Australia, Adelaide.
Art Gallery of Western Australia, Perth.
Berndt Museum of Anthropology, University of Western Australia.
Edith Cowan University Art Collection, Perth Flinders University Art Museum, Adelaide.
Kluge-Ruhe Collection, Virginia, USA.
Museum and Art Gallery of the Northern Territory, Darwin.
Myer Gatner Collection, USA.
National Gallery of Australia, Canberra.
National Gallery of Victoria, Melbourne.
Oodgeroo Collection, Qld University of Technology Collection.
Parliament House Collection,Canberra.
Queensland Art Gallery, Brisbane.
The Holmes a Court Collection, Perth.
The Kelton Foundation, Santa Monica, USA.
Thomas Vroom Collection, The Netherlands.
Individual Exhibitions
1994 Roads Cross, The Paintings of Rover Thomas, National Gallery of Australia, Canberra.
1994 Rover Thomas, Utopia Art Sydney, Stanmore.
Group Exhibitions
1986 The Third National Aboriginal Art Award Exhibition, Museum and Art Gallery of the Northern Territory, Darwin.
1987 Aboriginal Art from the Kimberley, Goolarabooloo Gallery, Broome.
1987 Art of the East Kimberley, Birrukmarri Gallery, Perth.
1987 Recent Aboriginal Art from Western Australia, National Gallery of Australia, Canberra.
1988 ANCAAA and Boomalli, Boomalli Aboriginal Artists Co-operative, Sydney.
1988 Art from the Kimberley, Aboriginal Artists Gallery, Sydney.
1988 Innovative Aboriginal Art of Western Australia, University of Western Australia, Perth.
1988 Recent Aboriginal Painting, Art Gallery of South Australia, Adelaide.
1988 Creating Australia: 200 Years of Art 1788-1988, International Cultural Corporation of Australia, Touring.
1988 Australian Art Post-1960, Deutscher Gallery, Brunswick.
1989 On the Edge, five contemporary Aboriginal artists, AGWA, Perth.
1989 Turkey Creek: Recent Work, Deutscher Gertrude Street, Melbourne.
1989 A Myriad of Dreaming: Twentieth Century Aboriginal Art, Westpac Gallery, Melbourne
1989 Design Warehouse Sydney [through Lauraine Diggins Fine Art].
1989 Masterpiece Fine Art Gallery, Hobart.
1989 l'ete Australien a' Montpellier, Musee Fabre Gallery, Montpellier, France.
1990 Contemporary Aboriginal Art 1990: From Australia, Third Eye Centre, Glasgow and touring UK.
1990 Anatjari Tjampitjinpa, Dini Campbell Tjampitjinpa and Rover Thomas, John Weber Gallery, New York, USA.
1990 The Seventh National Aboriginal Art Award Exhibition, Museum and Art Gallery of the Northern Territory, Darwin.
1990 Venice Biennale: Australian Representative, with Trevor Nickolls.
1990 Adelaide Biennial of Australian Art, Art Gallery of South Australia.
1990 Balance 1990: views, visions, influences, Queensland Art Gallery, Brisbane.
1990 Contemporary Aboriginal Art from the Robert Holmes a Court Collection, Harvard University, University of Minnesota, Lake Oswego Center for the Arts, USA
1990 L'ete Australian a Montpellier, Musee Fabre, France.
1990 Innovations in Aboriginal Art, Hogarth Galleries, Sydney.
1990 The Singing Earth, Chapman Gallery, Canberra.
1990 Abstraction, Art Gallery of New South Wales, Sydney.
1991 Aboriginal Art and Spirituality, High Court, Canberra.
1991 Flash Pictures, National Gallery of Australia.
1991 Walkabout in the Dreamtime, Virginia Miller Gallery, Miami, Florida, USA.
1992 Crossroads-Towards a New Reality, Aboriginal Art from Australia, National Museums of Modern Art, Kyoto and Tokyo.
1993 Trevor Nickolls and Paintings by Emily Kame Kngwarreye, Ginger Riley Manduwalawala and Rover Thomas, Hogarth Galleries, Sydney.
1993 The Tenth National Aboriginal Art Award Exhibition, Museum and Art Gallery of the Northern Territory, Darwin.
1993 Images of Power, Aboriginal Art of the Kimberley, National Gallery of Victoria, Melbourne.
1993-1994  ARATJARA, Art of the First Australians, Touring: Kunstammlung Nordrhein-Westfalen, Dusseldorf; Hayward Gallery, London; Louisiana Museum, Humlebaek, Denmark.
1994 Power of the Land, Masterpieces of Aboriginal Art, National Gallery of Victoria.
1994 Identities: Art from Australia, Taipei Fine Arts Museum, Taiwan, Wollongong City Gallery.
1994 Australian Heritage Commission National Aboriginal and Torres Strait Islander Art Award Exhibition, Old Parliament House, Canberra.
1994 This Land: A Celebration, Utopia Art Sydney, Stanmore.
1994 Yiribana, Art Gallery of New South Wales, Sydney.
1995 Stories, Eine Reise zu den grossen Dingen, touring, Sprengel Museum Hannover, Museum fur Volkerkunde Leipzig, Haus der Kulteren der Welt Berlin, Ludwig-Forum fur Internationale Kunst Aachen.
1995 The Twelfth National Aboriginal Art Award, Museum and Art Gallery of the Northern Territory, Darwin 1994 Rover Thomas: An Artist from Turkey Creek, Hogarth Galleries Sydney.
1994 This land: A Celebration Utopia Art, Sydney.
1994 Power of the Land: Masterpieces of Aboriginal Art, National Gallery of Victoria, Melbourne.
1994 Roads Cross -The Paintings of Rover Thomas, National Gallery of Australia.
1994 Rover Thomas New Paintings, Utopia Art, Sydney.
1995 Rover Thomas -Well 33 Revisited, William Mora Galleries, Melbourne.
1995 Painting up the Country: Aboriginal art from the Kimberley WA, Cooee Aborignal art, Sydney.
1995 The Festival of Darwin Art exhibition: Kimberley Printmakers.
1995 Offset and Intaglio. Fremantle Arts Centre, Fremantle.
1995 Made in the Kimberleys, Moores Building Fremantle.
1995 Northwest and Kimberley Artists, Durack Gallery, Kimberley Fine Art, Broome.
1995 Latest Landscapes, Utopia Art, Sydney.
1995 12th NATSI Art Award Museum & Art Gallery of NT, Darwin.
1995 Stories: Eine Reise zu den Grossen Dingen – Elf Kunstler der australischen Aborigines. Werke aus der sammlung Holmes a Court, Perth – Sprengel Museum,Hannover-Museum fur Volkerkunde zu leipzig – Haus der Kulturen der Welt, berlin – Ludwig Forum fur internationale Kunstt, A Achen.
1996 Figures in the Land, National gallery of Victoria, Melbourne.
1996 Abstraction: Signs, Marks, Symbols National Gallery of Victoria Melbourne.
1996 'This is my country, this is me' Seattle art museum ,Seattle USA.
1996 Contemporary Australian Abstraction, Niagara Galleries Melbourne.
1996 Flagging the Republic, Sherman galleries, New England regional Gallery, Touring.
1996 Nangara: The Australian Aboriginal Art exhibition-Ebes Collection Sichting Sint-Jan, Brugges, Belgium.
1997 Contemporary Australian Aboriginal Paintings, Songlines Aboriginal Art Gallery, Amsterdam, San Francisco.
1997 Imaging the Land National Gallery of Victoria, Melbourne.
1999 Myer Gatner Collection USA.
2000 From Appropriation to Appreciation: Indigenous influences and images in Australian Visual Art. Flinders University Art Museum Adelaide.
2000 Images of the Land Art Gallery of NSW Sydney.
Bibliography
Aboriginal Artists of Western Australia, [n.d.] [folios of works and biographies] , Aboriginal Education Resources Unit, Western Australia.
Aboriginal Arts Management Association, 1990, Contemporary Aboriginal Art 1990 – from Australia (presented by the Aboriginal Arts Committee, Australia Council and Third Eye Centre, Glasgow), exhib. cat., Redfern, New South Wales. (C)
Brody, A., Krempel, U., Bahr, E., (eds.), 1995, Stories, Eine Reise zu den grossen Dingen, exhib. cat., Landeshauptstadt Hannover Der Oberstadtdirektor Sprengel Museum Hannover and Autoren.
The Bulletin, May 10, 1994, 'An affirmation of black visual power', review of NGA solo exhibition, p. 92
Caruana, W., 1987, Australian Aboriginal Art, a Souvenir Book of Aboriginal Art in the Australian National Gallery, Australian National Gallery, Parkes, Australian Capital Territory. (C)
Caruana, W. (ed.), 1989, Windows on the Dreaming, Ellsyd Press, Sydney. (C)
Caruana, W., 1993, Aboriginal Art, Thames and Hudson, London. (C)
Crossman, S. and Barou, J-P. (eds), 1990, L'ete Australien a Montpellier: 100 Chefs d'Oevre de la Peinture Australienne, Musee Fabre, Montpellier, France. (C)
Crumlin, R., (ed.), 1991, Aboriginal Art and Spirituality, Collins Dove, North Blackburn, Victoria. (C)
Diggins, L. (ed.), 1989, A Myriad of Dreaming: Twentieth Century Aboriginal Art, exhib. cat., Malakoff Fine Art Press, North Caulfield, Victoria.
1993, Aratjara, Art of the First Australians: Traditional and Contemporary Works by Aboriginal and Torres Strait Islander Artists, exhib. cat. (conceived and designed by Bernard Luthi in collaboration with Gary Lee), Dumont, Buchverlag, Koln. (C)
Hart, D. 1995 Place and Perception: New Acquisitions:Parliament House Collection,Parliament house Canberra.
Isaacs, J., 1987, 'Waiting for the mob from Balgo', Art Monthly Australia, June 1987, No.1 p.20-22.
Isaacs J. 1999 ,Spirit Country Hardie Gates Books.
McCulloch, A., & McCulloch, S., 1994, The Encyclopedia of Australian Art, Allen & Unwin Pty Ltd, St Leonards, New South Wales.
McCulloch S,Contemporary Aboriginal Art:a guide to the rebirth an ancient culture Allen & Unwin 1999.
Morphy H. 1998, Aboriginal Art Phaidon Press.
Neale, M., 1994, Yiribana, exhib. cat., Art Gallery of New South Wales, Sydney. (C)
O'Ferrall, M., 1989, On the Edge – Five Contemporary Aboriginal Artists, exhib. cat., Art Gallery of Western Australia, Perth.
O'Ferrall, M., 1989, 'Painting the country, Rover Thomas,' Tension 17, 43,45. (C)
Ryan, J., 1993, Images of Power, Aboriginal Art of the Kimberley, exhib, cat., National Gallery of Victoria, Melbourne.
Smoker, J., 1989, Turkey Creek recent work, exhib. cat., Deutscher Gertrude Street, Melbourne.
Stanton, J.E., 1988, Innovative Aboriginal Art of Western Australia, Occasional Paper 1, The University of Western Australia Anthropology Research Museum, Nedlands, Western Australia. (C)
Stanton, J., 1989, Painting the Country: Contemporary Aboriginal Art from the Kimberley Region, Western Australia, University of Western Australia Press, Nedlands, Western Australia. (C)
Thomas,N.Possession .Indigenous Art and Colonial Culture.Thames &Hudson 1999.
Thomas, R., with Akerman, K., Macha, M., Christensen, W., and Caruana, W., Road Cross, the paintings of Rover Thomas, exhib. cat. National Gallery of Australia, The Craftsman Press Pty. Ltd., Victoria.
Wallace, D., Desmond, M., Caruana, W., 1991, Flash Pictures, exhib. cat., National Gallery of Australia, Canberra.
1988, ANCAAA and Boomalli, exhib. cat., Boomalli Aboriginal Artists Ko-operative, Sydney. (C)
1990, Balance 1990: Views, Visions, Influences, exhib. cat., Queensland Art Gallery, Brisbane. (C)
1990, Contemporary Aboriginal Art from the Robert Holmes a Court Collection, exhib. cat., Heytesbury Holdings Ltd., Perth.
1992, 'Aboriginal Art', National Gallery News, 10th Birthday edition, September/October 1992, p. 5-7.
1999 Art from the Land: dialogues with the Kluge Ruhe Collection University of Virginia.
2000 Artlink ,Australian Contemporary Art Quarterly, Vol.20 Reconciliation? Indigenous art for the 21st century 'Edited by Murray L. & Drury N.Australian Painting Now. Craftsman House 2000
Showing the single result