Paddy Japaljarri Stewart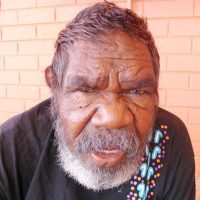 Paddy Stewart Japaljarri was from Mungapunju, just south of Yuendumu. When he was a young man he was a station worker at Mt Allen, Mt Dennison and up the top end. He worked as a chef in Papunya, hence his nickname 'Cookie'. For a very long time he lived at Yuendumu.
Cookie worked at the Yuendumu school teaching young kids, both kardiya and yapa (non aboriginal and aboriginal). He's taught painting, jukurrpa (dreaming), tracking (dingo, kangaroo, goanna etc.), how to make wax for the sand painting, dancing, making boomerangs and many other important culture traditions. Each day Paddy drove the school bus that collected the kids. He was also involved in the council here and in Night Patrol. Night Patrol has been absolutely invaluable as a yapa (aboriginal) policing body.
Cookie was drawing and painting for a long time, including working on the Yuendumu School Doors. He was the chairman for the Warlukurlangu Artists Committee.
In 1988 Paddy Stewart was selected by The Power Gallery, Sydney University to travel to Paris with five other Warlpiri men from Yuendumu to create a ground painting installation at the exhibition 'Magiciens de la Terre' at the Centre Georges Pompidou. The trip took place in May 1989 and the painting was received with world wide acclaim.
In 2000 Paddy Stewart undertook to produce 30 etchings of the original Yuendumu Doors in collaboration with Paddy Sims and under the guidance of Basil Hall, Northern Editions Printmaker (Northern Territory University). The first print of the etchings was all on one page and had its debut alongside the Yuendumu Doors while they were exhibited in Alice Springs.
Subject & Themes
Marlu (Kangaroo), Janganpa (Possum), Yarla (Yam), Warlawurru (Eagle), Wardapi (Goanna), Yajukurlu (Bush cabbage), Jarlji (Frog), Jajirdi (Native Cat), Ngatijirri (Budgerigar), Wakulyarri (Banded Rock Wallaby), Yanyilingi (Native Fuschia), Pingirri (Meat ant).
Collections
South Australian Museum, Adelaide
Seatle Art Museum, U.S.A.
Duncan Kentish
Art Gallery and Museum, Kelvin Grove, Glasgow, Scotlandbour, Sydney.
Individual Exhibitions
1985 Araluen, Alice Springs
1986 Editions Gallery, Perth
1986 Araluen Arts Centre, Alice Springs
1987 Reconnaissance Gallery, Melbourne
1987 Chapman Gallery, Canberra
1988 F.O.E. Community Art Space, Melbourne
1988 Bellas Gallery, Brisbane
1988 Hilton Hotel (Nadoc Week), Adelaide
1988 Dreamtime Gallery, Perth
1988 'Dreamings. The Art of Aboriginal Australia' Asia Society, New York, U.S.A.
1988 F.O.E. Community Art Space, Melbourne
1989 Centre Georges Pompidou, Paris, France
1989 Hogarth Gallery of Dreams, Sydney
1990 'Dreamings' South Australian Museum, Adelaide
1990 South Australian Museum Shop, Adelaide Festival
1991 'Aboriginal Art And Spirituality', Canberra
1991 Albert Hall, Canberra
1992 The Haven Gallery, Melbourne
1992 Emerald Hill, Melbourne
1993 Adelaide Town Hall, Adelaide (Pacific Arts Symposium)
1993 'Aratjara – Art of the First Australians' Kunstsammlung Nordrhein Westfalen, Dusseldorf, West Germany
1993 'Artajara', Haywood Gallery, London, UK
1993 Bellas Gallery, Brisbane
1993 Sutton Gallery, Melbourne
1993 'Tjukurrpa, Desert Dreamings' – a survey of central desert art
1993 Hogarth Gallery of Dreams, Sydney
1993 Chapman Gallery, Canberra
1993 Philip Bacon Galleries, Brisbane
1993 H. B Starr Gallery, Florida
1994 The Assembly Hall of the Territorial Parliament, Tahiti, French Polynesia
1994 Palm Beach Community College, Lake Worth, Florida
1994 Interamerican Art Gallery, Miami, Florida
1994 'Aratjara', National Gallery of Victoria, Melbourne
1994 Hogarth Gallery, Sydney
1995 Kloosterkazerne, Breda
1995 INMA Foundation, Amsterdam.
1996 Hogarth Gallery, Sydney
1996 Lake Macquarie Art Gallery
1997 Art Gallery NSW, Festival of the Dreaming, Ngapa Sand Painting, Sydney
1998 Desert Designs
1999 'Fighting for Culture', Indigenart, The Mossenson Gallery, Perth, W.A.
1999 Desert Mob Show, Araluen Centre, Alice Springs
2000 Print exhibition, Bellas Gallery, Brisbane
2000 'jangku yinyi', Carey Baptist Grammar School, Melbourne
2000 Kurawari, Desart Gallery, Sydney
2000 Hogarth Gallery, Sydney
2000 Gallery Gabrielle Pizzi, Melbourne
2000 Paintings and Prints, Northern Terrirtory University, Darwin
2000 'Wayuta', The Desart Janganpa Gallery, Alice Springs
2000 'Unhinged' Araluen Cultural Centre, Alice Springs
2001 Framed Gallery Darwin
2001 Bellas Gallery Brisbane
2001 Hogarth Gallery Sydney
2001 Yuendumu Door Etchings' National Gallery of Australia
2001 18th National Aboriginal and Torres Strait Islander Art Award
2001 Yilpinji, Love Magic & Ceremony, The Australian Museum, Sydney, NSW
2003 Yilpinji, Love Magic & Ceremony, Australia's Outback Gallery, Sydney, NSW; Darwin Entertainment Centre Gallery, Darwin, NT; Alcheringa Gallery, British Columbia, Canada; Thorncrest Gallery, Southport, QLD; Damian Minton Gallery, Newcastle, NSW;
Flinders University City Gallery, Adelaide, South Australia
2002 'The Warlukurlangu Collection' Parliament House Canberra
2002 Chapman Gallery Canberra
2002 'Desert Mob' Araluen Art Centre and Gallery Alice Springs
2002 Bellas Gallery Brisbane
2002 Indigenart Perth
2003 Yilpinji, Love Magic & Ceremony, Australia's Outback Gallery, Sydney, NSW; Darwin Entertainment Centre Gallery, Darwin, NT; Alcheringa Gallery, British Columbia, Canada; Thorncrest Gallery, Southport, QLD; Damian Minton Gallery, Newcastle, NSW; Flinders University City Gallery, Adelaide, South Australia
2004 Yilpinji, Love Magic & Ceremony, Art Mob, Tasmania; Stephanie Burns Fine Art, ACT; Japingka Gallery, Freemantle, WA; Fire-Works Gallery, QLD; Rebecca Hossack Gallery, London, UK Fisketorvet, Copenhagen, Denmark; The Orangery at Adelsnas, Sweden; Bruun's Gallerie, Aarhus
2005 Yilpinji, Love Magic & Ceremony, Highpoint Centre for Printmaking, Minneapolis, USA; Galerie Dad, Paris, France; The Jeffrey Moose Gallery, Seattle, USA; University of Virginia, Virginia, USA; Australian Embassy, Paris, France; Chateau de Saint Cirq, Lapopie, France
2006 Yilpinji, Love Magic & Ceremony, Booker Lowe Gallery, Houston, USA
Commissions
1991 Prof. H Antes, Berlin, commissioned a 7x 3m canvas by fourty two of Yuendumu's artists. The painting forms part of the 1993 European touring exhibition 'Aratjara – Australian Aboriginal Art' curated by Kunstsammlung Nordrhein Westfalen Dusseldorf West Germany. 2000 Robert Kaplan and Margaret Levi in collaboration with the Seatle Art Museum commissioned a 6′ x 8′ painting by Jack Jakamarra Ross, Paddy Japaljarri Sims and Paddy Japaljarri Stewart. This 'Pamapardu Jukurrpa' (Flying Ant Dreaming) comes from a site called Yuwinji. Jack is one of the main kirda (owners) and the Paddy Sims and Paddy Stewart are kurdungurlu (like police) for this story. As part of this commission a video was produced documenting the creation of the painting, the story and various attempts to reach the site.
Bibliography
Caruana, W., 1993, Aboriginal Art, Thames and Hudson, London. (C);
Crumlin, R., (ed.), 1991, Aboriginal Art and Spirituality, Collins Dove, North Blackburn, Victoria. (C);
Diggins, L. (ed.), 1989, A Myriad of Dreaming: Twentieth Century Aboriginal Art, exhib. cat., Malakoff Fine Art Press, North Caulfield, Victoria.
Johnson, V., 1994, The Dictionary of Western Desert Artists, Craftsman House, East Roseville, New South Wales. (C);
Sutton, P. (ed.), 1988, Dreamings: the Art of Aboriginal Australia, Viking, Ringwood, Victoria. (C); Warlukurlangu Artists, 1987, Kuruwarri Yuendumu Doors, AIAS, ACT
Showing all 2 results