Johnny Bulunbulun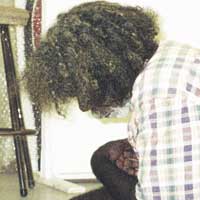 Johnny Bulunbulun was born just after the Second World War near the Arafura Swamp of Central Arnhem Land. When he was older, his family moved to the nearby Christian mission in Milingimbi so that he could attend school. He left school early to work in a variety of labouring jobs on the mission, at the 'government' settlement at Maningrida, and with the Armed Services in Darwin. Johnny is a senior member of the Ganalbingu group and is one of the most important singers and ceremonial men in north-central Arnhem Land.
He moved west from the Arafura Swamp to Gamedi outstation on the Blyth River when he married Nelly [deceased] the sister of painter Jack Wununwun [deceased]. A steady though not prolific painter he began to make his mark in the late 1970s when the Aboriginal art market expanded and the Art & Craft Centre artists cooperative at Maningrida began to be noticed. His career took an interesting turn in 1977 after he was commissioned to complete an individual mural on the wall and ceiling of an underground Australian Defence Department instillation in Canberra.
In 1981 his importance was recognised by a one artist show at the Hogarth Gallery in Sydney. In 1986 he attended the South Pacific Arts Festival in Tahiti.
His major composition is often the totem of Gumang, the magpie goose and Guwaynang, the long necked turtle focused around a central sacred waterhole. The Guwaynang is an important creature in Ganalbingu cosmology and is Bulunbulun's personal totem.
According to Bulunbulun, the magpie goose is the most important one
because it was him that made my country and my people.
Copyright Australian Art Print Network
Subject & Themes
Common subjects are Gurnang, the magpie goose, and Garjarr, the water snake amongst waterlilies in the swamp country at Djilibunyurnurr. The Dreaming figure Yangagai looks after his country. Other figures associated with these lands are Wamyu, the flying fox, Gunungurr, the blackheaded python, Barrnda, the freshwater tortoise, Diljidamba, a brown water beetle eaten by the tortoises and Lidgilidgi, finches. These finches and magpie geese are danced by the Ganalbingu people at Marradjirri (ceremony to celebrate the birth of a child) Djapi (initiation) and Murukundjeh (mortuary) ceremonies.
Collections
Artbank, Sydney.
Art Gallery of New South Wales, Sydney.
Art Gallery of Western Australia, Perth.
Central Collection, Australian National University, Canberra.
Djomi Museum, Maningrida.
Edith Cowan University Collection Perth WA Flinders University Art Museum, Adelaide.
Kluge Foundation, Morven Estate, Charlottesville, Virginia, USA
Milingimbi Collection, MECA,
Milingimbi Educational and Cultural Association.
Museum and Art Gallery of the Northern Territory, Darwin.
Museum of Contemporary Art, Maningrida Collection, Sydney.
National Gallery of Australia, Canberra.
National Gallery of Victoria, Melbourne.
National Maritime Museum, Darling Harbour, Sydney.
Parliament House Art Collection, Canberra.
The Holmes a Court Collection, Perth.
The Kelton Foundation, Santa Monica, U.S.A.
Individual Exhibitions
1981 Hogarth Galleries, Sydney
Group Exhibitions
1983 Artists of Arnhem Land, Canberra School of Arts
1984 Christine Abrahams Gallery, Melbourne
1985, South Pacific Festival of Arts, Townsville.
1986 Ramingining Art Exhibition, Araluen Arts Centre, Alice Springs, NT
1986 The Art of the First Australians, Kobe City Museum, Japan
1986 My Country, My Story, My Painting : Recent Paintings by Twelve Arnhem Land Artists, National Gallery of Australia exhibition at the Drill Hall Gallery, Canberra
1987 Hogarth Galleries, Sydney.
1988 Australian Aboriginal Graphics from the Collection of the Flinders University Art Museum.
1989 Aboriginal Art: The Continuing Tradition, National Gallery of Australia, Canberra
1990 Balance 1990: views, visions, influences, Queensland Art Gallery, Brisbane.
1990 Keepers of the Secrets, Aboriginal Art from Arnhem land, Art Gallery of Western Australia, Perth
1992/3 New Tracks Old Land: An Exhibition of Contemporary Prints from Aboriginal Australia, touring USA and Australia
1993 Ten years of acquisitions, from ANU collection, Drill Hall Gallery ACT
1992 Crossroads-Towards a New Reality, Aboriginal Art from Australia, National Museums of Modern Art, Kyoto and Tokyo
1993/4 ARATJARA, Art of the First Australians, Touring: Kunstammlung Nordrhein-Westfalen, Dusseldorf; Hayward Gallery, London; Louisiana Museum, Humlebaek, Denmark
1994 Maningrida Collection, Museum of Contemporary Art, Sydney.
1995 Perspecta Art Gallery of NSW Sydney NSW
1996 Copyrites: Aboriginal Art in the Age of Reproductive Technology
1996 Maningrida Exhibition Raintree Fine Art Gallery, Darwin NT
1996 The Language of Place Framed Gallery, Darwin, NT
1996 Australian Heritage Art Awards Exhibition Canberra, ACT
1997 Juxtapositions: An exhibition of Australian Indigenous works Flinders University Art Museum, Adelaide SA
1997 Mawurndjul & Bulunbulun Annandale Galleries, Sydney NSW
1997 Shell Fremantle Print Award Femantle, WA
1998 ACAF6 Exhibition Building Melbourne
1999 Fighting for Culture Indigenart, Perth, WA
1999 Bodypaint show, Vivien Anderson Gallery, Melbourne, Vic
1999 16th NATSI Art Award Museum & Art Galleries of NT Darwin
1999 Art & Place: Collecting Contemporary Art at Northern Territory University, Northern Territory University Gallery, Darwin, NT.
Bibliography
Butler, R., 1986, "From dreamtime to machine time," Imprint 21(3-4), 9. (C)
Caruana, W., 1987, Australian Aboriginal Art, a Souvenir Book of Aboriginal Art in the Australian National Gallery, Australian National Gallery, Parkes, Australian Capital Territory. (C)
Caruana, W. (ed.), 1989, Windows on the Dreaming, Ellsyd Press, Sydney. (C)
Caruana, W., 1993, Aboriginal Art, Thames and Hudson, London. (C)
Hughes,A: The Art of John Mawurndjal and John Bulunbulun: Introduction in Mawurndjal and Bulun Bulun Exhibition catalogue, Annandale Galleries, Sydney, 1997
Isaacs, J., 1984, Australia's Living Heritage, Arts of the Dreaming, Lansdowne Press, Sydney. (C)
Isaacs, J., 1989, Australian Aboriginal Paintings, Weldon Publishing, New South Wales.
Langton, M., 1992-93 "The two women looked back over their shoulders & lamented leaving their country: detached comment (recent urban) & symbolic narrative (traditional)," Aboriginal Art in the Public Eye, Art Monthly Australia Supplement, 7-9. (C)
Magin P; "John Bulunbulun: I water my trees and I paint" in Mawurndjul and Bulunbulun exhibition catalogue, Annandale Galleries, Sydney 1997 Morphy H. Aboriginal Art, Phaidon Press 1998
McCulloch S, Contemporary Aboriginal Art: A Guide to the Rebirth of an Ancient Culture. Allen & Unwin 1999
1993, Aratjara, Art of the First Australians: Traditional and Contemporary Works by Aboriginal and Torres Strait Islander Artists, exhib. cat. (conceived and designed by Bernard Luthi in collaboration with Gary Lee), Dumont, Buchverlag, Koln. (C)
NT News, 27/12/1993, p. 6.
O'Ferrall, M., 1990, Keepers of the Secrets, Aboriginal Art from Arnhem land in the Collection of the Art Gallery of Western Australia, Art Gallery of Western Australia, Perth. (C)
Reser, J., 1977, "Djakaldjirrparr: explanation of a mural painted by Johnny Bulun Bulun as told to Joseph Reser," Australian Institute of Aboriginal Studies Newsletter 8, 79-83.
Reser, J., 1977, "The dwelling as motif in Aboriginal bark painting". In Ucko, P. (ed.), Form in Indigenous Art, Australian Institute of Aboriginal Studies, Canberra.
Tweedie, P. and Scollay, C., 1979, 'Art of the Aboriginal,' Panorama: the Journal of Ansett Airlines Australia 21 (2), 1,4. (C)
Tweedie, P., 1985, This My Country, A View of Arnhem Land, William Collins Pty Ltd, Sydney.
Touring Exhibition Catalogue.
Showing all 6 results