Doris Gingingara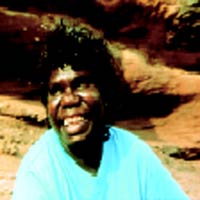 Aboriginal artist Doris Gingingara was born in 1946 at Maningrida, an Aboriginal community in Arnhem Land, in the Northern Territory.
She spent her childhood in the traditional way learning the skills required of the women in her tribal group, Barada. When she was a little girl she was taken by Mimi spirits and put into a tree to be taught about basket weaving and net making. Mimi are important figures in the culture of Arnhem Land Aborigines and are often depicted in bark paintings as long thin humans.
The inspiration for her art came from childhood experiences, events from everyday life, the things she saw around the bush, Dreaming totems, sacred places and the ceremonial traditions of her people. She also drew on locations around Mt. Magnet, the outback mining town where she lived until her death in 1999. All Doris' work conveys the intricate detail of the world seen from an Aboriginal woman's perspective, exploring the complex relationship of the artist and the natural world.
She used a range of rich ochre colours from warm pinks and yellows to burnt reds and deep browns. These are often contrasted with bright blues, greens and purples. The total effect of her work is of a warm harmony of colours created in very intricate patterns.
The art of Doris Gingingara has been described as the most exciting trend in current Australian art – the blend of traditional Aboriginal culture with contemporary materials and expression.
Collections
Artbank, Sydney.
National Gallery of Australia, Canberra.
Art Gallery of Western Australia, Perth.
Flinders University Art Museum, Adelaide.
Group Exhibitions
1989 Smiths Gallery, Covent Gardens, London
1989 Desert Designs Gallery, Fremantle
1990 Blaxland Gallery, Sydney
1990 Robert Steele Gallery, Adelaide
1990 Bever Galleries, Canberra
1990 Shades of Ochre Gallery, Darwin
1992 Crossroads – Towards a New Reality, Aboriginal Art from Australia, National Museums of Modern Art, Kyoto and Tokyo 1995 Japingka Gallery, Fremantle 1995 Salon International Gallery de Chartreuse, France 1997 Japingka Gallery, Fremantle
Bibliography
Aboriginal Artists of Western Australia, (n.d)- (folios of works and bibliographies) Aboriginal Education Resources Unit, Western Australia.
Wroth D., 1990, 'Doris Gingingara', Special Double Issue Artlink 10 (1&2), 18. (c).
Showing all 7 results